National Grandparents Day is celebrated on the first Sunday after Labor Day in the U.S. A West Virginia grandmother, Marian McQuade, campaigned for a national holiday to honor grandparents. McQuade made it her goal to educate the youth in the community about the important contributions seniors have made throughout history. U.S. President Jimmy Carter in 1978 signed a presidential proclamation making it official. In that original proclamation, Carter wrote that because grandparents "are usually free to love and guide and befriend the young without having to take daily responsibility for them, they can often reach out past pride and fear of failure and close the space between generations." Though not widely publicized around the world, as Mother's Day and Father's Day, is seen observed on different days of the year.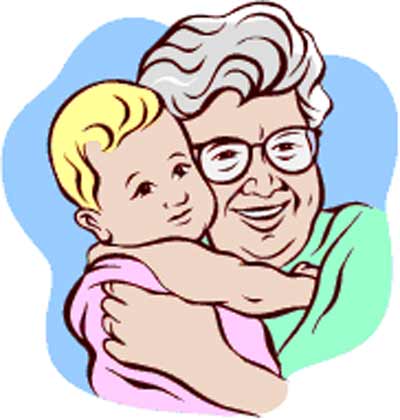 Before I write about grandparents Day in general, I would like to put few words about my grandparents. I was lucky to have my maternal and paternal grandma's in my life. I was unfortunate for not having both of my grandpa's in my life that left this world before I entered. I have known about my grandpa's through my grandma's words. They have taken care of the huge extended family and due to illness could not survive long to be with us. My relatives often mention that my features resemble that of my paternal grandma who was kind and courteous in her words. She shared stories, we, as her grandchildren could learn and helped strengthened the understanding of our previous generations. Unfortunately at young age she was paralyzed hip below but she used to tell stories and was fond of going to the village she lived in her last days. She had 20 grandchildren and had more than 18 great grandchildren. My maternal grandma is a 'gem' of all the grandmothers in the world. She has never directly advocated doing the things her way, but looking at the way she used to talk to people and handle the situations, I guess, we got a glimpse but could not catch all of it. She is the one to hand over ethnic and cultural tradition down while our parents were busy making new life in a new land. As a child she has taken care of me since my birth, then during my illness and till my delivery, also she had the joy of cuddling my little ones. I think we were able to tap the wisdom and heritage she provided to her 15 grand children and 14 great grandchildren. I sincerely need to thank them for sharing their experiences and wisdom and making me a better person.
Grandparents create special relationships and impart lessons that last a lifetime. Family tradition is kept alive. We can learn about our parents, old family traditions are passed on keeping up with new traditions and growing changes in the society. Just like parenthood, grand parenthood is an ongoing dance and so they keep learning new steps. Many households with employed mothers, preschoolers are regularly cared by their grandparent during the hours their mom is employed outside the home. I often keep hearing that, caring for their grandchildren makes them feel young and active. They say that the sacrifices are worth it. They feel it as a greater purpose for their lives. A study has revealed that children grow up happier under the care of grandparents. The children questioned in a survey said it did not matter how far away their grandparents lived, because they could keep in touch using technology such as phones, email, online messaging etc.
Official flower of Grandparents Day
The role of grandparents in a child's life is varied. One important thing, which seems to be missing in the lives of children today, is the sense of family, values, religious beliefs and principles. This is where the grandparents step in; inculcating beliefs and values is not as easy as it was 50-60 years ago. No questions were asked and there was an implicit sense of belief. With changing times and changing outlooks, children have started to question the authenticity of everything. The parents who are already fighting constantly with time are perhaps not in a position to inculcate these values. Children are very demanding and grandparents without appearing to be pushy have all the time and experience to deal with tantrums and nagging questions. They appease, soothe, and impart values with tremendous ease. The ability to love, shower affection, and willingness to help and comfort their

grand children

has made grandparents indispensable. In India, the ceremonial rites and festive occasions in families are never complete without the grandparents, whose guidance is much needed. We still believe that the heart-felt blessings of elders go a long way in helping the grandchildren achieve what they want in life.
"Nobody can do for little children what grandparents do. Grandparents sort of sprinkle stardust over the lives of little children."
- Alex Haley
"Grandchildren are the dots that connect the lines from generation to generation."
-Lois Wyse