The fifth month of the lunar calendar is Sravana maasam, filled with auspicious days and numerous rituals. Sravana maasam is named after the janma nakshatram (birth star), Sravana, of Lord Vishnu. Worshipping Goddess Laxmi this month is highly auspicious. Mondays in Sravana maasam is dedicated to Lord Shiva and many people observe the famous Sravana Somvar (Monday) vrata. Mangala Gauri Puja is performed on Tuesdays. Sravana Sukruvara puja is performed on Fridays. Saturdays in Sravana maasam is dedicated to the worship of Lord Shani.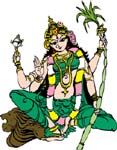 All Tuesdays (2, 9, 16, 23)
Mangala gauri vratham is dedicated to Goddess Mangala gauri who is also known as Goddess Parvathi. According to a legend, Drowpadi once asked her brother Sri Krishna, what women should do to prevent widowhood and lead a life of joy and prosperity. Lord Krishna told her about Sravana Mangala Gauri Vratham in which people pray to the Goddess to achieve their goal. Normally, this ritual is performed by women from the Sravana masam immediately after the marriage. This is continued for five years when it is said to be complete, with worship completed on all Tuesdays during the five years. The observance of vratham mainly comprises of puja, Mangala Gauri vratha katha (story of the ritual) is chanted during the end of the vratham. Prasadam, turmeric and kumkum, soaked whole bengal gram with betel leaves and betel nut is distributed to other married women.
Varalakshmi vratham is observed on Friday before pournami (full moon). Friday is the most auspicious day for Lakshmi Devi, the Goddess of wealth and prosperity. Puranas described that observing Vara Lakshmi vratham would bless a woman with all eight supreme forms of wealth for life-pleasure, food, courage, peace, strength, success, wisdom and money. This vratham is mainly observed in the south Indian states, also Maharastra and Goa. Though mostly performed by married women, even unmarried girls perform when the elders perform in their house. After performance of the puja Vara Lakshmi vratha story is read, different types of food and sweets are offered to Goddess Lakshmi. Later kumkum and turmeric with betel leaves and betel nut is offered to the invited ladies. I have been performing this since my childhood and continuing till date, which is close to my heart.
Jandyala purnima (full moon day) and Rakhi purnima
Rakhi purnima festival highlights the eternal love and affection between brother and sister. Sister ties the rakhi (protective thread) to brother and brother in return gifts sister. Jandyala purnima is wearing of new Jandhyam means yagno-pavitham or the sacred thread by Brahmins in Andhra Pradesh, Tamilnadu, Karnataka and Kerala. After the first year of Upanayanam, Upakarma is observed on this purnima. Old sacred thread is removed and new sacred thread worn on this day.Gayatri Japam is performed with the new thread.
Krishna Ashtami or Janmashtami (eighth day after full moon)
Krishna Ashtami is the joyful celebration of Lord Krishna's birthday. Lord Krishna is born more than 5000 years ago in Mathura, as one of the ten dasavatara of Lord Vishnu. Lord Krishna is worshiped with utmost pomp in many places of India. The significance of Sri Krishna is that he used his life to explain to us the great teachings in Bhagavd Gita. Sri Krishna will never automatically solve your problems, but guides and help make us understand the foolishness in expecting God to deliver the goods. We have to perform the actions and each action will have a fruit. He showed us the way to live in the modern society. He showed us the concept of Brahman – that life is continuity. Live in the moment and life will be a celebration. The true significance of Sri Krishna is that he is relevant in the present and even more relevant for the future.
As part of the celebrations, processions with children dressed as Sri Krishna, Radha and gopis are held. Stories of Krishna are also enacted on the day.
Polala amavasya (no moon day) - is an important vratham dedicated to Goddess Poleramma, observed on Sravana amavasya (no moon day). Goddess Poleramma is known as the protector of children. Symbolically Goddess is worshiped in the form of "kanda mokka" (suran or yam shrub) or "kanda dumpa"(suran or yam bulb). Women perform puja and raksha thoranam (sacred protective thread) is also worshipped during the puja. According to vrata texts, by performing this vrata one can safe guard their children from the clutches of death. Every year, offering prayers to Poleramma coincides on the amavasya day and hence the vrata is called Polala Amavasya. Women tie the sacred thread to her children after reading the story about a mother who prayed Poleramma to help bring back her dead young children. For the welfare of the male children (boorelu) fried sweet balls of chana dal and jaggery are made, for the welfare of female children (garelu) urad dal vadas are made and offered to Goddess Poleramma.