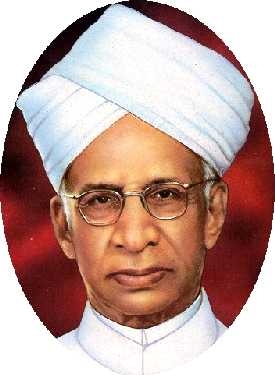 Dr.S.Radhakrishnan (1888-1975)
Teacher's Day commemorates the birthday of Dr. Sarvepalli Radhakrishnan, born on September 5, 1888. He was a philosopher and as a teacher his contribution towards Indian education system was excellent. He also served as Vice President and President of India. Dr Radhakrishnan believed that "teachers should be the best minds in the country". The origin of celebrating his birthday as Teacher's Day goes like this. One day, some of his students and friends requested him to allow them to celebrate his birthday. In reply, he said, "instead of celebrating my birthday separately, it would be my proud privilege if September 5th is observed as Teacher's day". India has been celebrating Teacher's Day on 5th September each year, since 1962. On this day, we gratefully remember the great educationist, apart from honoring all the teachers that have made our life much more knowledgeable and fulfilled. The regular school day is replaced by activities of celebration, thanks and remembrance.
To any child mother is the first teacher, not only teaches ABC's of life but also literally starts the foundation of education by introducing to the books. In a classroom, a teacher encourages, motivates and reinstates energy in the classroom and each student to succeed. For many students teacher is a role model. A good teacher has ambition for oneself, class in general and student in specific. Teachers provide academic education and demonstrate the advantages of honest and conscientious living. In the course of our education, from elementary to college we have been guided by many teachers. Some of them are imprinted in our memory and certain things we keep remembering even today.
Science class to me, got interested in my 6th grade. I still remember some of the classes she taught, the bench I sat. We had 2 periods at a time, like a block period. She used to ask questions of what she taught the previous day, we had to be prompt and ready with the answers. The moment she asks questions some of the students used to lift their hands to be called, but she used to pick the ones who have not lifted their hands. She knew those student who did not lift was not out of not knowing the answer but were shy. My young mind did not understand back then, later I realized along with teaching the subject she brought our inner strength out by removing shy or fear. I am sorry, I don't remember her name but I can't forget her face that instilled love of biology in me.
I can't forget my geography teacher in high school. We had huge country maps and world maps charts in our class. During the class while learning about a particular country, that country chart was hanged on the wall and she had to show us a particular place in the map, if it was hard to find right away, she used to just point out somewhere on the map and say "the city is somewhere here". After few repetitions, the next time the class would whisper "it is somewhere here", making sure our words would not travel in the air. Later, we felt sorry knowing the fact that she had some vision problem. She is the one who taught me the art of map pointing and understand the legends on the map.
In my college classes I had a very nice history professor, who could make history class lively. She encouraged us to read special news item from the newspaper and each day a topic was discussed in the class. We were quizzed on the general knowledge and current events, which motivated me, read out-of-the-curriculum books to acquire the required knowledge. She truly helped nourish my imagination in guiding us read international magazines. I can remember her by the jokes she used to crack and, as young girl I was fascinated to see her neatly groomed and well dressed in gorgeous saris.
Thanks to all my teachers who have filled my life being creative and inspired me to be what I am. Each country celebrates Teacher's Day on different days either to celebrate local educator or a milestone in their educational system. Teacher's Day is intended for the appreciation of teachers. Here's a short clip.
The importance of education is not only in knowledge and skill, but it is to help us to live with others.
-Sir S. Radhakrishnan
"A teacher's purpose is not to create students in his own image, but to develop students who can create their own image."